What is ehtray.exe
ehTray.exe is nothing but a file that was present in the computer from the very first day when we purchased it. This particular file always goes by the name "Microsoft Media Centre Tray Bar Process".
This icon will be seen in the system tray and it also gives us a quicker access to specific features. This file is always considered safe but should always check the file location and folder as spyware or virus might use the same file name and might be placed somewhere else.
This file is located in the subfolder of Windows and it is also found to have several file sizes whenever it is running in Windows XP. Ehtray.exe file process is seen with a file size of 65kb.
This file also has shown the characteristics of system processes and so it can be said that this file ehtray.exe is a Windows system file. Moreover this is also a secure file as this always has a seal of approval by Microsoft for being a safe file.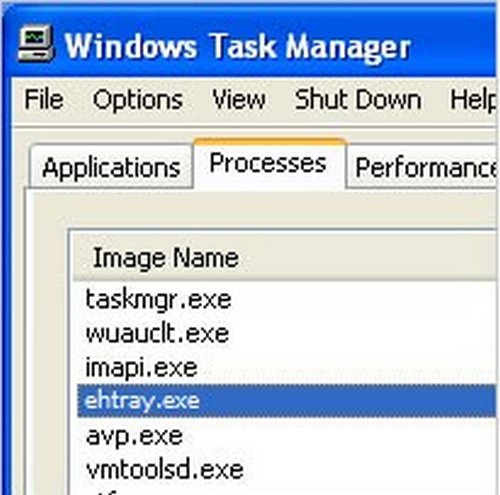 Remove ehtray.exe virus
Although there are many files in the default file locations, some of the files can be moved to some other locations or different locations very easily or they can also change the names like many adware, spyware or pop-up programs do.
If we are suspecting the presence of spyware or malware in our system, we have to check for the similar names stored somewhere else. We can also check the task list for the current running program on the computer.
We can always view the task list by navigating to the task manager by pressing alt-ctrl-del. This will show us the tasks running on the computer. Dll files will never be shown on the task list of the computer. We can see similar program names running in the computer if spyware or adware is present in the computer.
We just have to ensure the location of the tasks or processes that we are concerned about and then if the task or process is not present in its actual location then we have to remove it as it is sure to be malware.
The common path for ehtray.exe is given below
C:WINDOWSehomeehtray.exe
How to disable ehtray.exe
Non-system processes can be stopped as they are not involved in running the OS. To stop ehtray.exe we just have to uninstall "Microsoft Media Center" permanently from our system.
That is the application which uses this service and will not let you delete the file while running Windows. So just uninstall Microsoft Media Center and then delete the file and it will solve all your problems with respect to ehtray.exe.