What is alg.exe?
Alg.exe is a service and it runs on our machine. It allows us to connect to the internet. ALG stand for Application Layer Gateway and it is required if we are using Internet Connection Sharing or third party firewall to connect to the internet. This alg.exe is a component of the Windows OS and it is generally pre-installed software in the PC.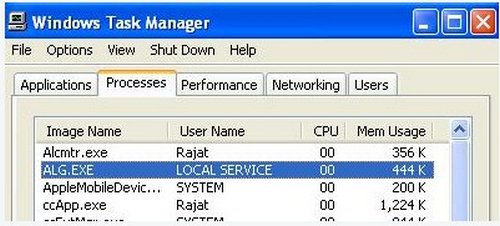 Location
Alg.exe is a safe file and it is located in the Windows System32 folder. It is required when we access the Windows firewall. We should always avoid ending this process inside the Task Manager as it will make us lose the entire internet connectivity. To restore this we have to restart the machine.
Problems
The absence of this file will cause the security protocols to block the communication ports. For network administrators, opening numeral ports on the firewall will create network vulnerability to a great extent and potential threats as well.
Its development was done keeping in mind the context of computer networking architectures where it is associated with Application Layer Gateway Services and also Network Address Translation.
Solution
Though many files are stored in their default file location, some may be moved to different locations and their names may be also changed if the computer is affected by a virus. So we suspect that we have a virus in our PC instead of having a correct alg.exe file. We should go to the Task manager ->Processes and to see all the processes running in the computer.
Check for similar file names or a slight difference in the spelling of the names and also check for the location where these files are stored. If a false alg.exe is stored in the computer then instead of deleting it, we should run a full system scan to fix this problem.
If we delete the file then we might lose all the data which they hide themselves. So all we need to do is to run a full antivirus and antispyware scan in the machine to fix this issue.These antiviruses can be downloaded from the following sites enlisted below:
http://free.avg.com/us-en/free-antivirus-download
http://www.bitdefender.com/Downloads/
http://www.avast.com/index
This was all about the alg.exe problems and solutions. Hope you find this information useful.